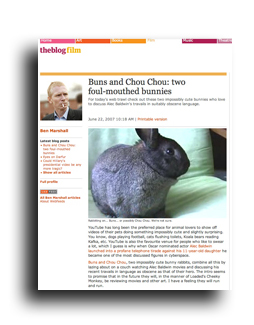 Rabbit Bites Podcast Grabs One Year Sponsorship from Purina
The show features two rabbits interviewing or making subtle commentary about mainstream entertainment fare. It's both cleverly written and amateurly produced - two factors that work to somehow make it better than the sum of its parts.

Zatz Not Funny!
Top 20 Web Video Creators
By combining sharp humor with rabbit commentary, they've managed to win the hearts of their fans.
Though seemingly innocuous, Buns and Chou Chou mount a serious doctrinal challenge to the rise of a pernicious paradigm that threatens to transform Food Network into a 24/7 outlet for the dispensing of ill-concealed exploitation television.

Rabbit Bites is an incredibly surreal comedic look at popular culture.
Every now and then we find a diamond in the rough, something that is simply too wonderful not to be shared with you. Thanks to Rabbit Bites!

Amanda Congdon


&nbsp